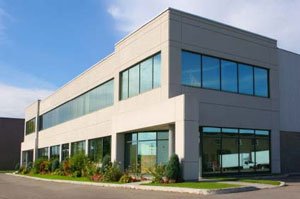 When you have Tint Masters in Merced apply window tint to your commercial building you'll notice a huge improvement both inside and out. There are many ways you can benefit from tinting your commercial building. Additional security, increased privacy, and a uniform aesthetic are just a few.
The big benefits of tinting a commercial building or business storefront is decreasing the interior heat build up and reducing your energy usage. Windows can be expensive to replace. Tint Masters commercial window tint can prevent up to 80 percent of the suns heat from penetrating your windows. This makes window tinting a cost effective alternative to increasing the comfort inside during those hot central valley summers.
With the increased energy savings you can expect to recover the cost of installing commercial window film within just a few years. Our quality film won't reduce the view for those inside but will still allow an ample amount of natural light to enter the building.
Let Tint Masters in Merced transform your commercial building into a facade of perfectly tinted windows. With almost 15 years of experience tinting windows in Merced and the surrounding central valley you can rest assured that Tint Masters will do the job right the first time. Schedule an appointment or request a quote today!